My fantasy Bubblescapes can give you a lift anytime! I hope you enjoy this vibrant, colorful painting!! This round wall clock can brighten any room and give you a ticket to Paradise into Tropical Morning!!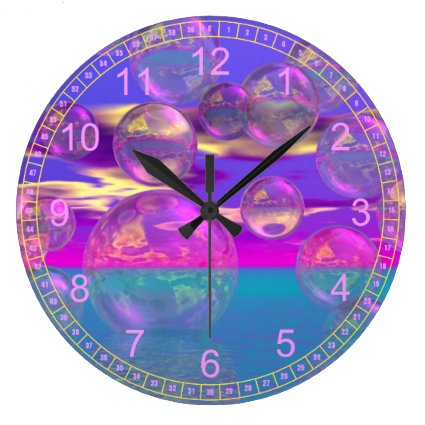 Tropical Morning – Magenta and Turquoise Paradise Round Wall Clock
Artist: Diane Clancy; Title: Tropical Morning; Medium: Digital
Luscious Paradise Oasis – Tropical Morning transports you away to Paradise with vibrancy, fantasy and color to give you a mini-vacation any time you desire. Swirling colors of magenta, purples, teal, pinks, azure and violets dwell within this magical landscape of beauty and magic. Be drawn in to its many exciting worlds. You may experience peace, serenity and healing as you look at my work.
These luscious colors and expansive space allow you respite from daily life. Bring this oasis into your home for yourself and to share with others. Tropical Morning is a deliciously amazing landscape of bubbles. Tropical Morning is part of my Bubblescape series. This luscious Paradise can be yours – whether next to your computer on a mug, as a shirt or tie, plate, tiles, gift box, puzzle or on your living room wall.
Computer monitors and browsers show colors differently so the actual colors may vary slightly from what you are seeing. This image is original and copyright protected. This image may not be reproduced, saved, altered or used in any way without written permission of the artist.
»visit the DianeClancyBubbles store for more designs and products like this
Please click to customize.
Technorati Tags: paradise, whimsical, magical landscape, beautiful, serene, peaceful, reflections, ocean, sea, respite, love, oasis, magenta, teal, violet, purple, pink, teal