price:

$106.00

Lattice of Modern Blue Violet Abstract Floral Quilt has many layers of design creating harmonious texture of complexity ...

design: DianeClancyPatterns

price:

$106.00

Bittersweet Pink Glowing Abstract Moroccan Lattice is a design of glorious vibrant shades of honey and raspberry priced ...

design: DianeClancyPatterns
This is created with traditional mediums – that is, not digital. I hope you enjoy this vibrant, colorful, acrylic painting of Inner Space,  Abstract Rainbow Streams Light Wall Clocks!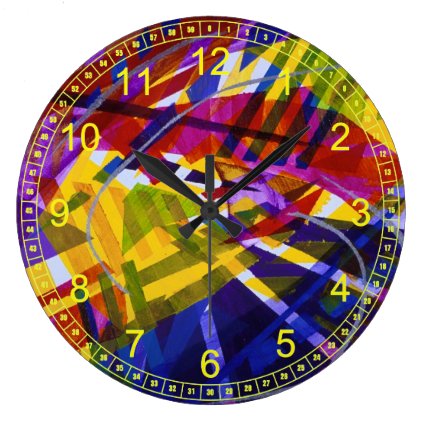 Inner Space – Abstract Rainbow Streams Light Wall Clocks
Abstract Inner Visions of the Mind – Rainbow planes of color flow, fly, mix & merge with each other in this original abstract acrylic painting. Sheets of rainbow colors flow across Inner Space as they mix and play together.
Artist: Diane Clancy; Title: Inner Space; Medium: Acrylic
Layers of violet and indigo purple sweep over rose and crimson red. Lime green dances through bars of royal blue. Sapphire and ultramarine along with ruby red play spin and frolic as thoughts race through the mind. Bright amber yellow translucent layers flow under and over piano keys of navy. Steps and treads of orange, blue and red set up a rhythm through this painting. Wedges, rails and shards of reds and blue dance and merge with lime green and violet-red lavender.
This delightful abstract painting shows the joy, zest, energy & vibrance as we joyfully go within. Thoughts go one way & then another as our minds spin. The lights, sounds and life of Inner Space and Inner Mind are vibrant and uplift the soul. The rich rainbow of color reflects the exuberance and diversity of inner excitement at its best. Vivacity, vitality and vigor are mirrored in this unique painting Inner Space. Inner Space is an imaginative and whimsical painting that I hope will inspire and uplift you. This Luminous Angles painting will inspire and delight you as it takes you on a journey into a different realm. This fun and whimsical image will delight you and enchant your inner child and make you smile though the day. Let yourself relax and enjoy the experience!
You may experience peace, serenity and healing as you look at my work. Inner Space could enhance your life. Allow a contemplative quality to draw you into your own inner landscape. Bring this oasis into your home for yourself and to share with others – whether next to your computer on a mouse pad, mug, plate, tie or a shirt, tote bag, puzzle, iPhone or iPad cover, card or on your living room wall.
Computer monitors and browsers show colors differently so the actual colors may vary slightly from what you are seeing. This image is original and copyright protected. This image may not be reproduced, saved, altered or used in any way without written permission of the artist.
»visit the DianeClancyFineArt store for more designs and products like this
Please click to customize.
Technorati Tags: abstract, fractal, modern, contemporary, luminous angles painting, rainbow, whimsical, light, sheets of light, , delightful, magical,   colorful, inspirational, spirituality,     color, serenity, delight, inspiration,   beauty, fractal-like