Vibrant colorful fractals are so much fun to create and to see. I hope you enjoy this vibrant, colorful painting!!  Is green favorite for you?  This has so many greens … and a feeling of movement and light!!  🙂  The Dawn of Time dances through the eras!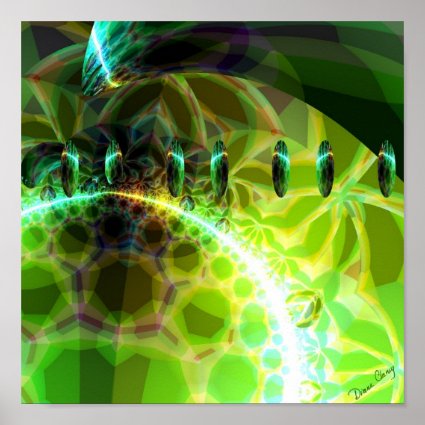 Dawn of Time – Lime & Gold Emerge Poster
Artist: Diane Clancy; Title: Dawn of Time; Medium: Digital
Abundance & Lushness Support Each New Beginning – Dawn of Time – patterns emerge, spinning and whirling, then pouring out into the great unknown, to evolve and create and reinvent themselves at each moment. A fountain of moss and jungle green rises up and spreads out. Lime, asparagus, olive and apple greens make geometric designs, playing with yellow, gold and lemon. A piercing arc of white light springs from the earth and supports the whole. Above that arch dances a row of vertical seeds, deep greens, highlighted with teal and aqua. Waves of taupe, Phthalo and hunter greens converge over the fountain; the tips of these swells dance with celeste and cyan. All these motifs dance and whirl and twirl as they create new joyfulness as they play together.
Dawn of Time reveals the beginnings … the beginnings of time and of own our journeys. Each new day gives us a Dawn of Time ~ for each day is its own universe. At any moment we can create a fresh start for ourselves. Abundance, lushness and joy are always right here, if we allow them to infuse and support us. We can let our lives be filled with creativity, joy and flow, then allow them to stream out into life, where they become something greater. Uplift your day with this tempting vision. You may experience peace, serenity and healing as you look at my work. Bring this oasis into your home for yourself and to share with others – whether next to your computer on a mouse pad, mug, notebook, gift box, puzzle, plate, or a shirt, tote bag, iPad or iPad cover, card or on your living room wall.
Computer monitors and browsers show colors differently so the actual colors may vary slightly from what you are seeing. All images are original and copyright protected. Images may not be reproduced, saved, altered or used in any way without written permission of the artist.
»visit the DianeClancyFractals store for more designs and products like this
Please click to customize.
Technorati Tags: whimsical, joy, beauty, energy, vision, new age, art, spiritual, healing, serene, delightful, mythological, spirituality, abstract, fractal, geometric, green, lime, olive, white