Mother Watching All, Violet Compassion iPads Sleeve
My Goddess series is powerful and engaging. I hope you enjoy this vibrant, colorful oil painting!!  Mother Watching All shows this purple woman watching humankind ….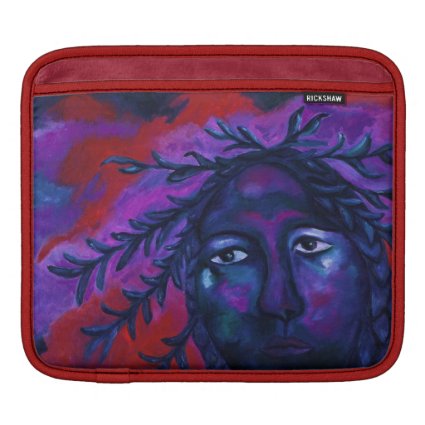 Mother Watching All – Crimson & Violet Compassion Sleeve For iPads
Artist: Diane Clancy; Title: Mother Watching All; Medium: Oil
Mother Watching All is an oil painting that represents compassion and sorrow as the goddess watches over us. Whether you focus on Mother Mary, Quan Yin, or Christ, this is an image of her caring for us all. Her face is deep purple, amethyst, violet and teal with highlights of rose, magenta, pink and lavender. Cobalt, iris, plum and eggplant vines flow out from her head, creating a crown. Deep red, mauve, purple, indigo, navy and midnight blue clouds form the backdrop for this sad, yet understanding, woman.
Mother Watching All's piercing eyes go to the depths of one's soul with great love and forgiveness. Mother Watching All is part of my Goddess series. You may experience peace, serenity and healing as you look at my work. Bring this oasis into your home for yourself and to share with others – whether next to your computer on a mouse pad, mug, plate or a shirt, tote bag, iPod cover, notebook, stamps, card or on your living room wall.
Computer monitors and browsers show colors differently so the actual colors may vary slightly from what you are seeing. This image is original and copyright protected. This image may not be reproduced, saved, altered or used in any way without written permission of the artist.
»visit the DianeClancyGoddess store for more designs and products like this
Please click to customize.
Technorati Tags: love, goddess, soul, awareness, spirit, vision, spirituality, inspirational, oil painting, mythological, spiritual,   beauty, whimsical, compassion, sorrow, purple, violet, crimson, red